In the heart of Clifton
Daisychain Clifton Nursery for pre-school children, from birth to 5 years old, is set in a 4-floor beautifully renovated Victorian building in the heart of Clifton village. We are very proud of our ample outdoor play space as this has enabled us to develop a stimulating and enriched learning experience.
Visit us at 1 Clifton Park, Bristol, BS8 3BS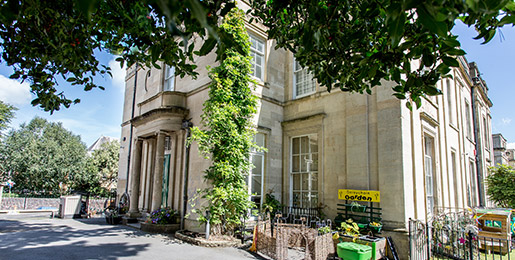 EXCELLENT STAFF
If you were to ask us what makes Daisychain Clifton a superb choice of childcare and pre-school education for your child, we would say 'our staff'. Our staff really do go that extra mile, they are the epitome of conscientious and brilliantly creative child carers that you would want to look after your child. Committed to not only on-going professional development, they are a vibrant team and their enthusiasm and innovative approaches are evident throughout their delivery, day after day of the Early Years curriculum.
PARENTS WELCOME!
Our parents are always welcome, in fact we actively encourage parents and carers to come and talk through your child's progress.  Many of our current parents see Daisychain Nursery and the team here at Clifton as an integral part of their family support network, which is a real honour!
We have a diverse number of families who currently have children attending the nursery and therefore celebrate a variety of festivals which the children and the staff thoroughly enjoy! We embrace cultural differences and have specifically themed days too.
TRANSITIONS
Daisychain Clifton children, from birth to the age of 5, are grouped together by age and developmental stage throughout their time at our Nursery. Transitions between groups and upwards through the Nursery years are handled sensitively. We strengthen our staff team with specialists both from outside and across the education provision of Torwood School and Nursery, and this includes a Qualified Early Years Teacher to support the older children, prior to joining primary education.
OFSTED OUTSTANDING
We've been inspected by Ofsted in 2020 and 2014, the most recent inspection earnt us another Ofsted 'Outstanding' rating.
"Children throughout the nursery are exceptionally keen learners who make exemplary progress in all areas of learning. Staff have an excellent understanding of the Statutory Framework for the Early Years Foundation Stage and how children learn. The exceptionally knowledgeable staff team spend time observing what the children can do and analyse this information to identify children's next steps. This meticulous approach results in focused and targeted planning." (Ofsted. 2020)
To view our last report please click on the following link: Ofsted Report